Do you love to knit? Are you looking for a variety of different styles of slippers you can make? I listed all of my slipper patterns in one convenient place.
For those who are regular visitors to my blog you're definitely going to appreciate this. I've decided to offer
ALL
of my patterns, knitting, jewelry and crochet, for
50% off
the cover price if you purchase and download the tutorials from my online shop at
Kweenbee.com
. Enter the code:
SAVE
during checkout when you make your purchase to receive your discount. You can use the coupon code as many times as you like. And in case you weren't sure, ALL my patterns are on my website to download. Even the FREE ones.
Don't feel comfortable downloading patterns from my website and prefer
Etsy
,
Amazon
,
iTunes
or
Barnes & Noble
? You can download all of my patterns from these fine distributors, too!
All the links below take you to my online shop (and where you can get the 25% off discount) but the links above will show all of my publications that they can. Some of the above distributors don't allow for free patterns, unfortunately. And don't worry, you won't lose this page. Any link you click will open in a new window.
NEW!
Cable Knit Slippers
($2.99) - Learn to knit comfy, cozy cabled slippers. This pattern shows you how to make slippers for children from a small size 3 to a large 3, and a woman's and man's size 4 to 12. A great project for a knitter with some experience but wanting to make something that is a little more challenging,. Even if you have never knit a cable before, have no fear! This pattern includes detailed instructions and numerous photos demonstrating how to create the cable.
Eight Slipper Styles to Knit
($7.99) - Finally! All my slipper patterns in one! Knit eight different styles of slippers with this collection of patterns. The patterns range from beginner to difficult and include links to online video tutorials. This publication includes every slipper pattern listed below. (Doesn't include the cable slippers above. That one was published in early November 2015. Sorry.).
By far my most popular pattern is my
bow slippers
($2.99) - You can make them from a child size 9 to a woman's size 12. The slippers are very easy to make and I've added links to videos on YouTube demonstrating how to do the basic stitches. I've also included detailed photos of the step by step process to make the bows. This makes these slippers a fairly easy project and great for a beginner knitter who knows the knitting basics but wants to challenge him or herself a bit.
Easy to Knit Slippers
($2.99) - Another best seller. Like the bow slippers, it only uses very basic stitches yet enables you to make a wonderful pair of adult slippers from a woman's size 6 up to a man's size 14.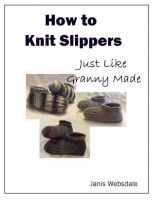 How to Knit Slippers Just Like Granny Made
($2.99) - My very first slipper pattern that I published. This pattern includes instructions to make slippers that will fit adults from a woman's size 7-12 and a man's 6-13. It is a bit more difficult because the cuff is knitted on double pointed needles in the round. It sounds complicated but if you can
knit a pair of socks
, then you can easily make the cuff too!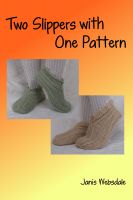 Two Slippers with One Pattern
($2.99) - What a bargain on this one! Using the same stitches you can knit what looks like two very different slippers. The stitches are pretty basic, but like the pattern listed above, it involves picking up stitches and making a cuff on double pointed needles. It may sound tough, but picking up stitches is pretty easy and knitting on double pointed needles is the same as single point needles. You just don't flip your work.
The pattern is for slippers from a men's size 6 to 13 and for a women's 6 to 13.
How to Knit Sheep Slippers
($2.99) - Definitely more of a challenge, these slippers are perfect for someone very comfortable making socks. The pattern includes detailed photos of how to make the fluffy wool like stitch.
And like always, I still offer my most popular slipper patterns for free. You can print them directly from my blog at:
How to Knit Adult Slippers
How to Knit Child Slippers
How to Knit Adult Bootie Slippers
There's links in the instructions back to my website if you'd prefer to download the patterns than read them on my blog.
I've also added my free patterns to the creative commons. This means that if you have a bit of creative flair, go ahead and develop upon these three free patterns anyway you like. All I ask is for acknowledgement through a link back to my blog.
Happy knitting!!!