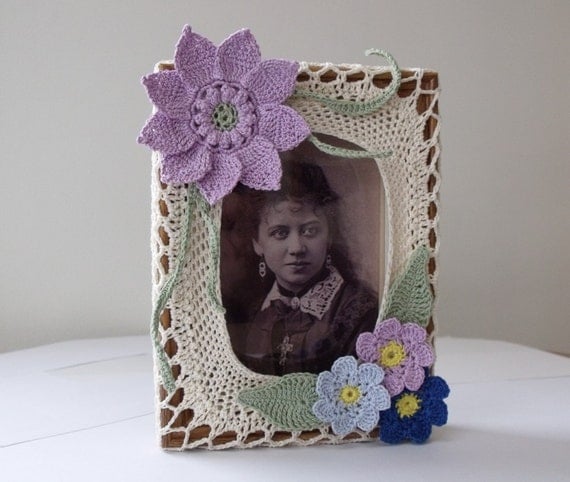 For the last year or so I've been crocheting little scrapbooking embellishments as I have time between writing patterns, knitting slippers, and making jewelry. Recently while I was walking through the second hand store I saw a bunch of empty photo frames. And trust me there are always A LOT of empty photo frames at second hand stores for some reason. I picked a few up and what I did was go a little nuts. For a first attempt I am very happy with how it turned out.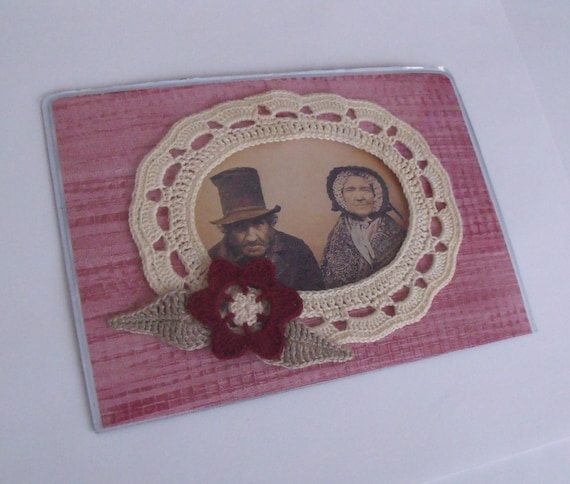 This happened on the heals of my scrapbooking picture frames that I've also been a little obsessed with. Couple that with the magnetic picture sleeves I found that stick to the fridge I came up with this. It's completed so all you have to do is add a photo and you're ready to go. Both of these are available in my
Etsy shop
for those who are interested.
For those of you who are hardcore scrapbookers and like to design your own pages, I'm still selling the embellishments separately. And as a matter of fact, I am having a
sale on all scrapbooking
stuff in my online shop until the end of February. All of it is 20% off.
Some of the pieces that I'm particularly fond of are the
3D flowers
that I came up with recently. They can be made in just about any colour that is out there. Well colour of crochet cotton thread to be truthful.
I seem to be having a love affair with
flowers
in general and have been making up all sorts of different ones.
The other thing that really got me started was the
picture frame sets
that I've been making for scrapbooking. The frame edges the photo and I've added in a few flowers and leaves. I've also made the components available separately because I know how folks out there like to mix and match.
As I keep going making different little things, It's sort of expanded and grown. It almost seems like with each thing that I make, I get a new idea how to use it, or how I can improve or develop it further. That's one thing I always love about creating...one thing always leads to another and there's never really an end!